With thousands of miniatures, most of which need to be painted, I decided that I needed to create a numbering system to keep up with all of the minis in my massive inventory. I've already created a database that contains miniatures broken down by manufacturer. This helps me run reports and quickly look up minis that I have or need. It is extremely useful when I'm at a store and need to see if I already own a mini or not. Each mini is recorded as a unique record (even if it is a duplicate).
The below picture is a Reaper Bones Ape-X that I marked with a unique number to match it to the database…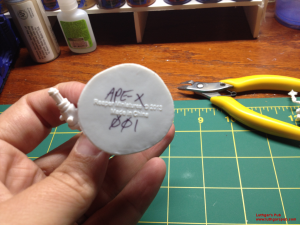 The below picture of an Ork Boy with a unique number…
Sharpies are very handy. They even come with metallic colors to help with different color bases…
Marking these with unique numbers will also help for future sales. The buyer will know that they receive the actual miniature from the purchase picture.